Share This Post With Your Friends
Home is where your…office space is? The reality for many of us is on any given weekday, we spend as much time, if not more, in our office than at home. What if you make transform your office space feel like home? No matter where your Tampa Bay office space is located, multi story office building in Westshore or Downtown Tampa or a single story office building, instead of merely occupying your office space, why not turn that square footage into a cozy place that looks and feels like your home away from home? These are 8 tips to make your office space feel like home and truly a place you look forward to coming to during those long days.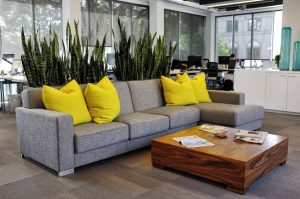 1. Bring out the couches – Adding soft couches with comfortable arm rests to your common area is the perfect way to say "welcome to our office." Giving your clients, guests and potential investors somewhere to sit and relax helps to set the overall tone for your office space. Not only that, but you and your colleagues can kick up your feet and use the space while brainstorming, catching up over lunch or gathering for a chance-of-scenery meeting instead of the conference room.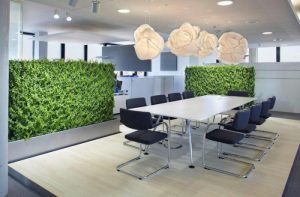 2. Add a bit of green – Bringing the outdoors inside with the help of a few plants. This is another easy way to improve the mood and vibe of your office space, without dealing with humidity, rain and heat of the sun. Think tall fiddle-leaf fig trees, small potted plants and other low-maintenance greenery that require a little watering, sunlight and watch as you reap the benefits that are worth the little bit of TLC required.
3. Stock some snacks – It's 3 PM and the hunger bug is biting you and your office mates – hard. Keep a stash of not just any snacks, but healthy ones, on hand to prevent blood sugar drops and grumpy afternoons. Many offices have a vending machine on site but would you keep one of these in your home? In lieu of stale, unhealthy and sugary treats, opt for fresh fruit, trail mix and low-glycemic snack bars to keep your energy levels up during those long hours.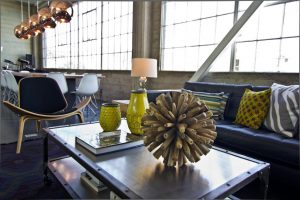 4. Personalize your coffee table – Coffee-table books do more than provide entertainment for your guests in the common areas. They also add a pop of color and serve as a way of escape during a long day. What hobbies and leisure activities are important to you – traveling? Cooking? Fishing? Including snippets of your personal life through interesting books and colorful magazine is a great way to weave in home to your space. There are so many great activities and places around the Tampa Bay whether in Tampa, St. Petersburg, Clearwater and more, nothing better than dreaming of your weekend plans.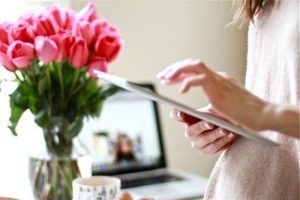 5. Add a bouquet or two – Besides the practicality of cleaning the air, fresh flowers just have a way of making the day better. The smell of the bright buds fills us with memories of childhood, the great outdoors and reminds us of the world outside of the office. Don't have a budget for fresh colors? A potted plant will do the same thing. Studies show that adding living plants to the workplace will help to increase productivity.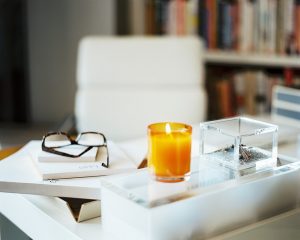 6. Diffuse away the stress – Just like lighting your favorite seasonal candle in your living room, turning on a diffuser in your office space helps create a cozy atmosphere and chases away any anxieties from unexpected fourth quarter reviews and pending files of paperwork to be filed. A few great scents that can help you destress are lavender, peppermint, sandalwood and jasmine. Rotate through an array of different scents or choose one that you like most – either way will have you breathing easy while at work.
7. Fill in the walls – Inspirational quotes, goals and encouraging images can do wonders to bring more life into your office space. Consider adding a decorative bulletin board in the kitchen, framing a few of your favorite motivational quotes for the hallway or hanging a large print of your favorite song lyrics, poem or mantra in the common area. Walking through the office and seeing things you love will help you to love the space you're in even more.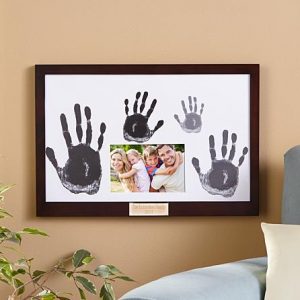 8. Focus on what matters most – The last tip to make your work space feels like home is bringing those you love most to work with you serve as a great reminder of why you work each day. From a small 5 x 7 on your desk to a larger matted print on your wall, there are so many options for displaying your favorite photos. Other ways include a rotating digital frame, stringing photos clipped to a wire, propping a monthly photo calendar on an easel and creating a gallery wall with different size photos.
Let us know how you used these 8 tips to make your office space feel like home and how it has change your work space.
Share This Post With Your Friends