Share This Post With Your Friends
When looking for office space in the Tampa Bay area, it's important to understand how the market is doing. This not only impacts your search, but also your future lease. A low inventory of market space is the current pulse of the market, meaning what used to be a more Tenant-friendly market has now shifted gears and is becoming more favorable for Landlords. According to research done by Colliers International, they have found that Tampa Bay's office occupancy rate continued to rise as a result of the area's job growth, economic expansion and market vibrancy over the past 24 months.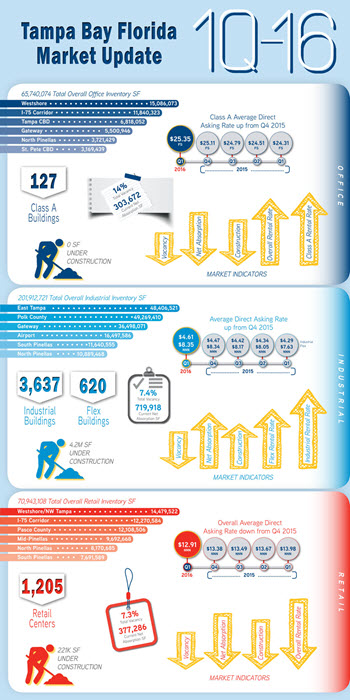 This high demand, low supply creates problems for Tenants who Tampa Bay Office Space Marketare looking to lease new office space, especially those looking for small space to lease (around 2,000 square feet or less). As leasing and subleasing continue to rise, the amount of great office space available is not keeping up with the demands of Tampa Bay business owners.
One of the main problems it creates is that the market is more competitive right now. Because of that, office space is leasing quickly so Landlords are able to choose who they want to work with, instead of whoever is willing to sign there. A high demand, high supply market allowed Tenants to have the upper hand and ability to get the space they wanted more easily. But in our current market, Tenants will have more difficulty leasing their perfect office space as there isn't as much supply but the high demand is still there.
A second problem created in this type of market is that the overall price for a quality space has risen, too. The recent survey done by Colliers International also found that rental rates grew to an average asking rental rate of $25.34 per square foot (PSF) for Class A space and an overall asking rental rate of $19.69 PSF. The Westshore submarket commanded the region's highest average asking rate at $25.23 PSF with the Tampa Bay CBD trailing behind with an asking rate of $24.42 PSF. A higher cost to sign a lease can really cramp on small businesses and brand-new startups.
Another problem this type of market creates is that having a quicker starting date on your lease is now a major factor in closing a deal with a Landlord. If you've just began your office space search but don't need the space until 6 months from now, it's highly unlikely that space on the market now will still be available then, and also that a Landlord would select you as their new Tenant when you have a start date so far in the future. It's much more favorable for them to sign a lease with someone who is willing to move in now and so once again, we see the problem of low supply, high demand creating more leverage for Landlords to work with.
How do you strategically position yourself as a Tenant?
To make things move quickly and to have Landlords to work with you, make sure that when you start looking at properties have your finances in order. Check with your CPA and ask them to put together a Profit and Loss Statement for you. That way, when Landlords inquire about your business finances, you are already prepared and give them a great impression of your efficiency and capabilities as a future Tenant.
Another way to add more credence as a Tenant is by having many years in business under your belt. The longer you're in business shows a Landlord that you have great stability as a company. Even if you're a newer corporation or small business, emphasizing your goals to be long-standing in the community – and in the space you'd like to lease – will help aid your cause.
When it comes to Tenants looking for smaller office space to lease, be prepared to wait to sign until closer to your move-in date. The longer the space is on the market for you to move in, the less likely that space will still be available when you need it.
Our advice? Don't try to tackle the office space market alone. Having a Broker who knows the Tampa Bay market and knows what is available and has working relationships with Landlords and Brokers is crucial to get the perfect office space you need and help you leverage rent concessions.
Share This Post With Your Friends